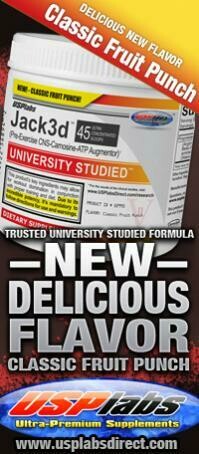 Jack 3D Classic Fruit Punch
SKU 400000005553
Product Details
The story goes like this: When Jack3d first came out, there were two flavors: lemon lime and then tropical fruit punch. However, many users got a little surprise when they tasted hints of coconut and other tropical flavors in the original.
People typically expect the "red fruit punch" of every other supplement when they get it. Thankfully, the flavor tastes absolutely incredible (to most of us, at least), and is a great change-up from all those other boring supplements with fake flavoring like red fruit punch and blow-pop style blue razz.
But just to be sure, on this site, we've always mention that the key word of that flavor is the word TROPICAL, just so that people don't get a surprise. But if you were one of those people who got surprised and still want that old school fruit punch flavor, we have good news for you!
It was only a matter of time. It's here. And it's amazing.
USPLabs finally "buckled" under the weight of their community, or maybe they ran out of ideas on new flavors to make. Either way, Jack3d classic fruit punch is now here, along with a whole slew of the other flavors that have been out.
The many flavors seem to alternate between sweet and sour styles. This one will go on the slightly sweet end of things, but nowhere near as sweet as Tropical fruit punch.
Many of the new flavors are exlusive to a single store here or there. This one is a bit different – any store can carry it, and it's already in stock if you check out the links on this site (hint: the cheapest store has it, so everyone wins!)
This is great news, because those exclusive flavors come with "exclusive prices", if you catch the drift… not this one. It's the same great value as every other product!
Save this product for later